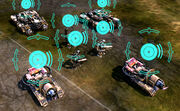 You've reached your target and now it's time to take it out. Entrenchment ensures that your units will survive the enemy's inevitable counterattacks by boosting the defenses against all attacks for all units owned by you or a teammate. Make your assaults swift, though, as the heightened defense lasts for only a short time.
Ad blocker interference detected!
Wikia is a free-to-use site that makes money from advertising. We have a modified experience for viewers using ad blockers

Wikia is not accessible if you've made further modifications. Remove the custom ad blocker rule(s) and the page will load as expected.