Ragnarok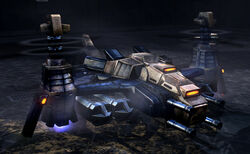 '
Info
Faction:
Liberation Front
Class:
Patriot
Properties
Type:
Aircraft
Ability:
Mjolnir Bombardment
Company Points:
200 at MK1, 220 at MK2,

260 at MK3

Stats
Health:
16,500 at MK1, 19,800 at MK2,

17,850 at MK3

Damage:
620 at MK1, 744 at MK2,

806 at MK3

Resistance:
25%
Speed:
120 Across All Marks
Range:
400 Across All Marks
Vision:
750 Across All Marks
Offensive Cap. Rate:
N/A
Defensive Cap. Rate:
N/A
Mjolnir Bombardment

Damage

1,600

Duration

Cooldown

120 seconds

Can Hit Air

No, only ground
"
Named for the epic, final battle in Norse mythology, the Ragnarok is a heavily-armed ground-attack aircraft which more closely resembles a flying tank than a sleek jet interceptor. Boasting a dizzying array of weapons, including heavy cannons and machine guns, the Ragnarok can quickly obliterate entire formations of ground units.
- Armory description
"
Description
Edit
Imagine a flying fortress, a fully-equipped arsenal in the sky. That is the Ragnarok. With VTOL propulsion, armaments from machine guns to rockets, and reinforced plating, the Ragnarok can eradicate virtually any ground-based target in its sights.
The Ragnarok's fearsome system unleashes a coordinated attack from the wide array of weaponry housed in the ship's cargo bay. Like a hammer from the heavens, the system targets an area and blasts it for a short time dealing high damage to any ground units within range.
Abilities
Edit
Mjolnir Bombardment
Edit
Bombards the targeted area, causing 1600 damage to all enemy ground units. At MK3, it deals 2400 damage.
Kinetic Barrier (MK3 only)Edit
This unit has a passive shield that slowly regenerates over time.
Ad blocker interference detected!
Wikia is a free-to-use site that makes money from advertising. We have a modified experience for viewers using ad blockers

Wikia is not accessible if you've made further modifications. Remove the custom ad blocker rule(s) and the page will load as expected.